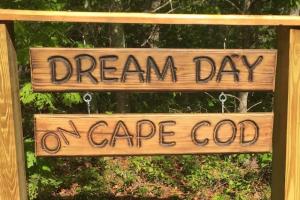 Dream Day on Cape Cod serves families that have children with life-threatening illnesses and/or serious conditions by "bringing a ray of sunshine" into their lives. Dream Day helps these children by giving them respite from the world of hospitals and treatments, where they enjoy the peace and tranquility of nature, the camaraderie of family and new friends, and the joy of being a child. And Dream Day seeks to support the family unit and give them the chance to create loving lasting family memories and enhance the child's overall quality of life. All of their programs are at no cost to the family. If you visit www.dreamdayoncapecod.org, you will see a large wish list of needed camp items.
We have chosen items that no camper should be without – a flashlight and batteries! We all know how quickly you can run through a stock of batteries, so let's help them out in this simple way.  Bring a new flashlight and a package of batteries all throughout July.
In August we will collect backpacks and school supplies for MSPCC.